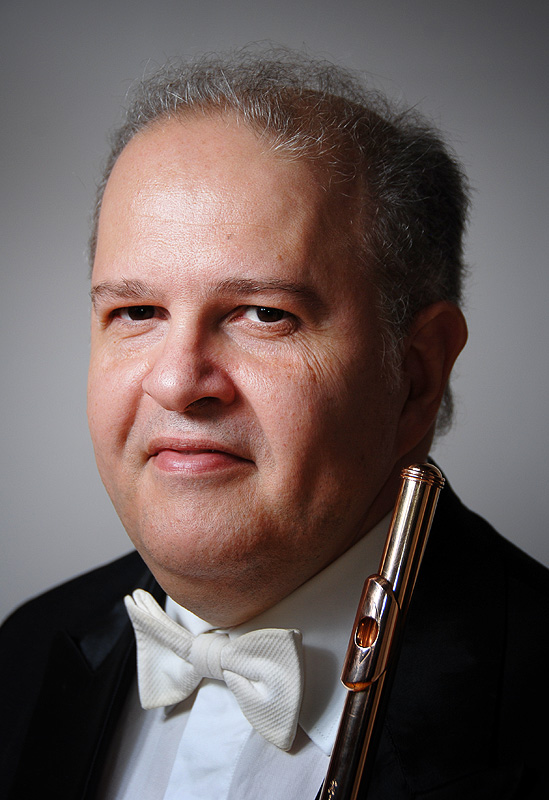 NICOLA GUIDETTI studied at the Conservatory of Ferrara, graduating with the highest marks and distinction.
Successively he has been awarded the "Honour diploma" at the Chigiana Music Academy and he has obtained the "Konzertdiplom" and the "Solistendiplom" at the Winterthur Conservatory (Switzerland) with the hightest marks and distinction too.
He has received great appreciations for his style and his musicality from C. Klemm, S. Gazzelloni, A. Marion, J.P. Rampal with whom he has studied in Winterthur, Siena, Salzburg, Paris.
He has performed in more than 20 countries throughout Europe, North Africa and South America, recording for many broadcasting stations and televisions and playing in prestigious concert-halls: Accademia Chigiana di Siena, Sala dei Giganti (Padua), Palazzo Pitti (Florence), Museo del Mare (Rijeka), Mozarteum (Salzburg), Eglise St.Merri (Paris), Théâtre St. Michel (Bruxelles), Stadthaus (Winterthur), Musikhalle (Hamburg), Museo Chopin (Warsaw), Palacio National de Queluz (Lisbon), Musikhuset (Arhus), Festival della Colonia Tovar (Caracas), Museo de Arte Italiano (Lima), St.Ann's Church (Dublin), University College (Cork).
Principal flute of the "Città di Ferrara" Orchestra, he has collaborated with several orchestras: the "Chamber Orchestra of Europe" , "I Virtuosi Italiani", "I Filarmonici di Bologna", Orchestra Internazionale d'Italia, playing with C. Abbado, S. Accardo, D. Renzetti, E. Florio, Lü Jia, D. Boyd, Y. David, A. Vedernikov, J.B. Pommier.
He has recorded for Ricordi, Dynamic, Tactus, Aura, Bottega Discantica, Bongiovanni, Fabula Classica, rediscovering and introducing works by G.B.Martini, L.Boccherini, G.M.Cambini, F.Carulli, A.Diabelli, B.Campagnoli, A.T.Berbiguier.
Currently he teaches flute at the Conservatory "G.Frescobaldi" (Ferrara-Italy) and at the Sacile Music Academy (Pordenone-Italy).